The Random writers have not been idle in their silence. And here it is – the new anthology!
Stalking Leviathan – A Bestiary of Tales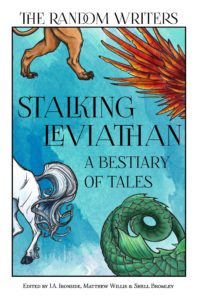 "It's out there. I can feel it in my water. I can hear it…"
Twelve tales that go in search of creatures of myth, legend, and the spaces between the real and the imagined. From the overwhelming confusion of the Irish Civil War to the eerie expanse of modern day Bodmin Moor; from Elizabethan England to the skies above Persia, the Random Writers quest for an answer to the question – What is the nature of the beast?
I am proud to have been an editor on the project, and I and my fellow dragon -co-host, M.E.Vaughan, as well as historical fiction co-writer,
Matthew Willis
and long term writing buddy, Shell Bromley, all have stories included in the collection.
Get ready for creatures that personify the wild, guard and guide the dead whilst helping the living out of grief, non-binary Unicorns, beasts that personify the madness and destruction of war or the gift of life and nature itself.
Release Date: 29th September 2016 in ebook and paperback formats.
(Special thanks to
M.E.Vaughan
for the fabulous cover.)
Final bit of news: Tune in the same time tomorrow for the grand cover reveal of
I Belong to the Earth – second edition.