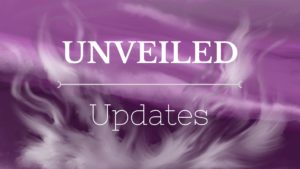 I decided after much soul searching that it just wasn't working out with my old publishers, so we have amicably parted ways. (Since then, they have shut down. Pretty sure it wasn't anything to do with me – more in a future blog post maybe?) So I have my rights back but I Belong to the Earth is temporarily out of print. I say temporarily because I will be releasing all of the Unveiled books, short stories and novellas under my own imprint. This means that those of you waiting patiently for book 2 – I am the Silence have just had the release date brought forward by 18 months. Can I get a whoop whoop?
Anyway, for those of you interested, I thought I'd provide a release schedule of dates to keep an eye out for:
Unveiled Book 1- I Belong to the Earth (second edition, new content, new artwork) release in ebook – 20th September 2016, in paper back – 10th October 2016 (roughly).
Unveiled short story – Girls' Night In ebook release – 27th September  2016
Unveiled Novella #1.5 – Amazing Grace ebook release – 1st October 2016
Unveiled Novella #1.9 – Amy's Academicals ebook release – 30th October 2016
Unveiled Book 2 – I am the Silence – ebook & paperback release – 19th January 2017
Unveiled short story – The Black Dog of Lyme – ebook release – 25th January 2017
Unveiled Novella #2.1 – Ciaran's Chance – ebook release 2017 … or is it 😉 (Check back, you won't hear Ciaran's story anywhere else!)
Unveiled Book 3 – I Hold the Tide – ebook and paperback release June 2017 (approx)
Unveiled Novella #3.5 – untitled – ebook release July 2017
Unveiled Book 4 – I Rule the Night – ebook and paperback release December 2017
There will be regular cover reveals, short stories, other novellas and freebies coming up so keep your eyes peeled!
Hopefully I've given you all something to look forward too. However, if you've read book one and you just cannot wait until January, I will be giving away an e-sampler of the first five chapters of I am the Silence free, here on my website. (If the 'Get your free Sneaklet' button isn't up on the main menu yet, please check back later. Otherwise, click away and find out what is in store for Emlynn in book 2.)
Finally, in the next couple of weeks Emlynn will be visiting haunted houses and other spooky areas all over Britain. Check back for more details or follow #EmlynnsTrail on twitter, instagram and tumblr.