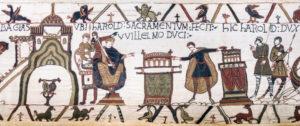 Around the end of September 2015, my friend, historical fiction and non-fiction author, Matthew Willis, said the immortal words 'Hey, does anyone want to write a book about the battle of Hastings with me?' (I'm paraphrasing but that really was the gist of it.) I hadn't studied anything to do with the Norman Conquest since a school trip to visit the Bayeux Tapestry, when I was twelve years old. I'd never attempted to co-write so much as a piece of flash fiction with anyone. And I mostly write speculative fiction and find it really quite hard to keep dragons, ghosts and genetically modified dinosaurs out of my stories. With that impressive list of qualifications, I immediately said 'yes' because, really, what could possibly go wrong? With a blithe disregard for the amount of work involved on research alone, I jumped in with both feet.
Have you ever seen the Disney film 'Frozen'? I have two writing buddies who at regular intervals present me with 'Do you want to build a snowman?' moments and I find myself rashly agreeing to take part in all sorts of crazy schemes. Matt is actually the more restrained of those two friends. Just saying.
Back to co-writing. We threw around a few ideas. I think Matt may have had half the book mapped out in his head already, which was handy. One benefit of writing historical fiction is that you know how the story is going to end. You have a destination. Working out by what route you're going to get there is the interesting, and occasionally difficult, process of producing a book. We both agreed early on that we didn't want to present a single perspective. The Battle of Hastings on 14th October 1066 was one of those pivot points in history that changed the course of events forever. It certainly changed the face of England, and by extension Britain. And by further extension, the world. So many of the events we take for granted now as historical fact, would not have happened – or at the very least would have fallen out differently – if the Saxons had not lost the Battle of Hastings. Of course history is written by the winner, who if they have any sense, put a bit of gloss and spin on their own actions and scuff up the reputation of their vanquished enemies. Not as if said enemies would complain – they're dead after all. We wanted to present both sides of the story and for both the Saxons and the Normans to have a voice. (In hindsight this is possibly why we ended up overshooting our word count target by 110,000 words but then hindsight is always 20/20 isn't it?)
We'd already decided that William of Normandy himself should be one viewpoint character. But should Harold Godwinson be the other? For one thing, when a viewpoint character is dead, that's it. No more Saxon voice. You lose that perspective. Another consideration was that while William and Harold Godwinson were undoubtably two of the most powerful and influential men of the time, they were both male. Recorded history often forgets or downplays the female perspective, taking the attitude of the time and valuing their contributions less. This isn't a plug for gender equality by the way, merely a statement of fact. And yet there were many women of the time, both Saxon and Norman, who were important political players, who did influence events. It wouldn't be as complete a story as we could make it if we didn't include a female perspective. But who? It needed to conceivably be someone who was close to Harold Godwinson, so we could deliver his perspective without using him as a viewpoint character. It had to be someone who could conceivably have been at various different places, including on the fringes of some important battles. For authenticity, it needed to be someone about whom little was factually known. Which is where Ælfgifa came in.
Harold Godwinson had eight acknowledged siblings – in other words, brothers and sisters who shared both Gytha Thorkilsdöttir and Godwin of Wessex as parents. (In the Saxon tradition he probably had many half brothers and sisters as well – powerful men kept mistresses and had dalliances, and any offspring produced were usually acknowledged. It wasn't considered shameful until the Latin Church really got a grip on Britain post 1066.) We know what happened to most of those acknowledged siblings. Harold's brothers gained Earldoms in their own right and later died at the Battle of Hastings. The youngest brother, Wulfnoth, spent his life as a political hostage in Normandy. The oldest brother, Sven, was originally Godwin's heir but got himself into some very hot water resulting in his banishment and Harold taking his place. Harold's sisters too, were influential. Gunhild became abbess of the convent she joined – abbesses wielded a lot more power and influence politically back then. Edith of Wessex married Edward the Confessor and by all accounts is the reason he came to be known as 'the Confessor' since she ruthlessly scrubbed her husband's public image and set about a careful, thorough and successful campaign of propaganda, the echoes of which we still feel today. Which just left Ælfgifa, one of the most shadowy branches on the Godwin family tree.
Very little is known or written about Ælfgifa. So little in fact that we can't be sure of the dates of her birth or of her death. Contradictory accounts say she died in childhood, that she joined a convent and later died after the Norman Conquest. That she died around the time of the Battle. Did she even exist at all? It's odd considering how well all of Godwin's other legitimate children were documented. Either way, we had our second viewpoint, a Saxon and a woman. Matt and I were good to go.
As with writing alone, there are many ways to go about co-writing. Matt and I decided to work out our general direction – The Battle of Hastings – and then alternate chapters. We'd set aside October for research – again I was displaying my blithe disregard for my sheer lack of knowledge – and had decided to use 2015 NaNoWriMo to get the bulk of the book written. We both felt we could easily come up with 50,000 words each in a month. That would be the first draft more or less written. We were determined. We were geared up, raring to get started on our new project. We were confident.
We may also have been just a little bit nuts.
However at the end of November 2015, we did indeed have 100,000 words. The problem? We were only about a third of the way through the story. You see, the thing with the Battle of Hastings, is that it doesn't actually start with the Saxon and Norman armies facing off. (Actually it doesn't really end there either but that's another story.) To give that pivotal moment in history context, you need to go back further in history, past the battle of Stamford Bridge. Past the battle of Fulford. Past the shipwreck that delivered Harold into the hands of William of Normandy and the subsequent uprising of Conan II. Further back, through sieges and skirmishes and assassination attempts – in fact at times you have to wonder if William the Conqueror, upon his death bed, looked back and saw he'd spent the vast majority of his life laying siege to one city or another. Even further back than that, because what caused a situation where the English crown was so precariously situated on the head of a childless king? Why were there so many claimants to the English throne? What made William, who lacked almost all the advantages Harold was born into, claw his way up from upstart boy Duke, to the formidable war leader he became? In the end, because while history doesn't have a designated start date but a book most definitely needs one, we started in 1045 – twenty-one years prior to the Battle of Hastings.
One of the things we probably should have done from the start, rather than when we were both about 20,000 words in, was to create a timeline of events. Basically, beats that we needed to hit or be aware that one viewpoint character was hitting. When you're spanning twenty years and two different peoples in a book, or two books as it became, you really do need a clear map of where you're going and when. The broad strokes at least. Still once that was in place, we really took off.
Some of the best bits of co-writing are related to division of labour. I imagine if you don't have absolute trust in your writing partner or if you're a writer who just can't let go of control, then our method of co-writing might not be for you. Matt and I had worked together  on creating anthologies of short stories before this and we're both founding members of a writing group – the Random Writers – so there was enough confidence in each other to do due diligence on research and be sure that no major gaffes were included. Having someone who is writing the other half of a book with you is very motivational for just getting the words down too. And of course you're less likely to get bogged down or stuck or really hung up on the 'what am I doing, it's all crap' stage that all authors go through on every single book. And when it gets to contract signing time, and then to publication, you are once again not alone.
The worst part of co-writing, in my opinion, is a worry that you'll let your partner down. That perhaps you'll allow an error through or that maybe your writing won't hold up to theirs, becoming a weakness in the story. Natural enough fears obviously and all writing has its downs as well as its ups. The downs were never enough to stymy me for long.
I might never have tried to write a straight historical novel, devoid of fantastical elements, if it hadn't been for Matt's suggested collaboration. It wouldn't have occurred to me that I could write historical fiction engagingly, let alone keep up with someone who is far more knowledgeable on the subject than I am. You learn something new with every book you write, collaborating on this duology has probably taught me enough for five or six books. (So if you are an author and you like working with other authors maybe give co-writing a try.) The end result was two epic historical novels that Matt and I felt pretty justified in being pleased with. Hopefully you'll enjoy them too.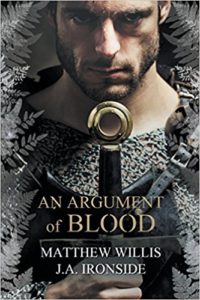 An Argument of Blood (Oath and Crown book 1) is available in ebook and paperback from all major retailers now.
A Black Matter for the King (Oath and Crown book 2) release date TBC.
See www.facebook.com/oathandcrown for more details