Random Anthologies
As an editor contributor, I have had the pleasure of working with many unusual minds as they tackled a theme, each in their own unique and slightly avant garde fashion.
A Seeming Glass – A Collection of Reflected Tales
(Random Anthology #1)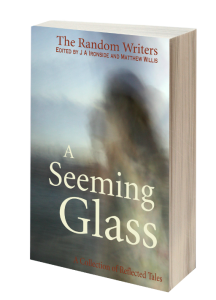 'How can I read the futures if I cannot see your skin?'
Six mysterious swans glide on a holographic pond in a totalitarian capital city. A terrified girl awaits her part in a ritual that could change the future… and the past. A dancer in ancient Jerusalem mourns her maimed sister and prepares for the performance of her life. A sword of legend sends its wielder back through the fiercest battles in history. A freshly qualified vampire hunter experiences the practical side of his vocation. Fourteen intriguing, dramatic, humorous and unsettling tales, inspired by existing stories and reflecting the breadth of storytelling from Greek myth to Hammer Horror, via fairy tales and Arthurian legend.
Something Rich and Strange: The Past is Prologue
(Random Anthology #2)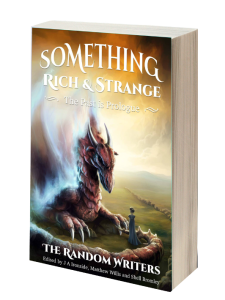 'It started with the Zhar-ptitsa, the Firebird, as these things must. No, let us say it started again with the Firebird.'
A group of researchers open a door in the present day that has been closed for centuries – and should have stayed that way. In 1840s Ireland, starving children face desperate measures to avoid the crisis consuming the land. A visitor to 19th Century Japan learns what it takes to fan love to life. A girl struggles to rise above the walls that surround her in Georgian England. In 7th Century Britain, a scribe translates the true value of a legend. Fourteen surprising, moving and compelling tales, weaving the next steps in the telling of famous events and stories from Greek myth to English folktale, via fairy tales and real historical events. The second anthology from The Random Writers
Stalking Leviathan: A Bestiary of Tales
(Random Anthology #3)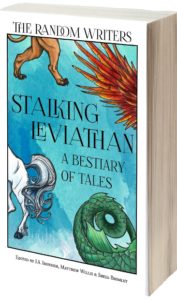 "It's out there. I can feel it in my water. I can hear it…"
Twelve tales that go in search of creatures of myth, legend, and the spaces between the real and the imagined. From the overwhelming confusion of the Irish Civil War to the eerie expanse of modern day Bodmin Moor; from Elizabethan England to the skies above Persia, the Random Writers quest for an answer to the question – What is the nature of the beast?