Unveiled Series
Reluctant, damaged heroine, Emlynn, pits herself against the supernatural and unknown in a fast-paced series of paranormal mysteries, which give new twists on old Gothic classics with just a hint of romance.
I Belong to the Earth (Unveiled #1)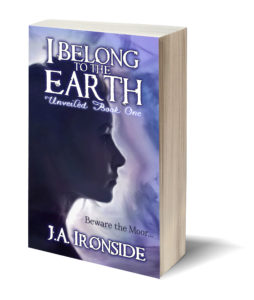 "There." Grace pointed towards the moor and I saw it: there was a shape in the dark. A tall, masculine shape. No, not a man; a piece of darker darkness in the shape of a man. We were being watched.
Seventeen-year-old Emlynn knows all about grief and guilt, not to mention secrets. Being able to sense the Dead wasn't so bad before the accident which killed her mother. Now it's taking over her life. Broken and shut off from the world, Emlynn is horrified when her father moves the family to a remote Yorkshire vicarage: a house that stands at the centre of a centuries-old curse born of betrayal, jealousy and poisoned love. A curse that feeds on the lives of young girls. A pattern about to repeat itself once more… When her older sister, Grace, gets involved with local bad boy, Haze, Emlynn knows she has to act fast. Somehow Haze is connected to the curse. Is Grace his next intended victim? Hurtling towards another family tragedy, Emlynn must find the strength to stop running from her gift, or risk losing the rest of her family for good. Only the dead have the answers she needs. If she can bring herself to speak to them…
I am the Silence (Unveiled #2)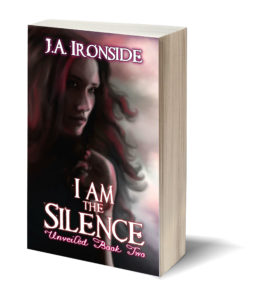 "Good…"Lucas breathed. "Have you found your inner darkness…and tamed it, Emily Lynette?"
Emlynn has become adept at sending the Dead on to rest. Perhaps a little too good…
Reeling from a crushing embarrassment, Emlynn visits her estranged best-friend, Beth, and attends the Milton Abbey Festival of music.
But in the year since she's been gone, Beth has changed. She's running with a new crowd now – a cooler, more dangerous group whose leader, Rhys, has an unhealthy interest in Emlynn. Torn between a world of dark powers and the terrifying black beast that stalks her dreams, Emlynn may have finally picked a fight she cannot win…
I Hold the Tide (Unveiled #3)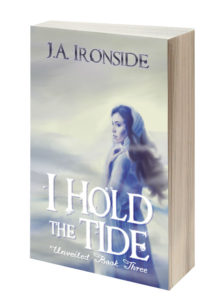 'Do you like ghost stories, Emily? Mine doesn't have a happy ending…'
Emlynn's power is spiralling out of control. Still reeling from the dark rite that almost killed her, Emlynn's life is thrown back into turmoil when Grace requests her help in Cornwall. Caught between the seductive pull of the Veil, and haunted by the memories of a long-dead smuggler, and the apparition of a mysterious woman who is singing men to their deaths, Emlynn needs to get her powers back under control and unravel the mystery before the storm breaks…
I Rule the Night (Unveiled #4)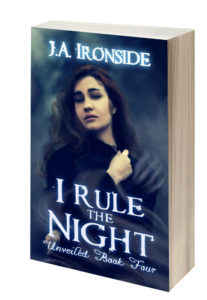 "Those who have power must always ask themselves if they could give it up willingly…" 
Everything is going right for once. Emlynn has come out of her battle with the Veil stronger in herself than ever before. She is certain of who she is and what she wants. And on who she wants to be with. It's the start of University, a time for testing your limits as an adult and Emlynn can't wait to dive right in. Of course if you happen to be the 'Veil-walker' then nothing is really simple but she's certain that the strange noises in the early hours of the morning are just memories. They can't hurt anyone…
The Veil doesn't let those it wants go easily. On a dark and lonely hilltop, a discovery has been made. As wards are broken and the earth is disturbed, a half sleeping creature stirs, seeking its freedom and its queen. Some things aren't meant to be uncovered…
This time, all debts will be called in. Power has its price. Not everyone will survive.
The heart-stopping conclusion to the Unveiled quartet
The Unveiled Novellas and Short Stories
Girls' Night In (Unveiled Short Story #1.2)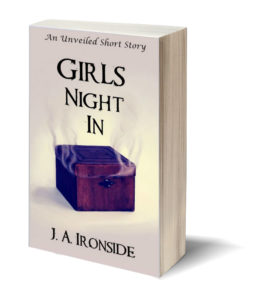 "I can't believe that I am trying to convince you two, that there's something wrong!"
After the events of the previous spring, things have been quiet for Emlynn and her sisters, Grace and Amy. Emlynn no longer fears her gift.Instead she is becoming skilled at using her affinity for the Dead as a force for good. When Grace lands a job house sitting for a neighbour and weird things start to happen, Emlynn agrees to a sleepover with her hostile older sister. Privately she believes that Grace, who has no psychic ability at all, is mistaken. But then Emlynn finds she's got more than she bargained for on a Hallowe'en night of true terror. It's not just the restless Dead who are drawn to her…
Friendly Fire (Unveiled Short Story #1.4)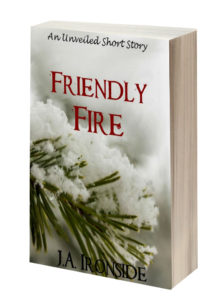 "I'll tell you a story," I said. "You'll likely see why I joined the clergy. And why Emlynn is different to her sisters. Then you can tell me a tale. We've a fair clip to go before we hit Moreton."
"Deal," Spud said. "Since it's Christmas will it be one of ghosts and goblins?"
Driving home through a thickening snow storm on Christmas Eve, Emlynn's father – Rev. James Matthews – comes across a young soldier walking home. He offers the stranger a lift … and, through the camaraderie and connection between an old ex-SAS serviceman and a new one, the secrets that both of them carry start to pour out…
It could mean a complete change of perspective for Emlynn if she ever finds out…
Amazing Grace (Unveiled Novella #1.5)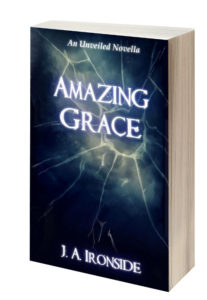 "You should always play to your strengths. If you've got it, then you use it, that's my motto."
Grace is faking it. Her sister may have broken the Pattern but Grace often doesn't feel like her body belongs to her – the memory of being possessed will do that to a girl. Not that Grace is admitting that to anyone because if there's one thing she hates, it's appearing weak. Besides, now that she's in her second semester at University, things are going to get better. Especially since the University is a long way from Yorkshire. Of course there's Nick – who is haunted by his own demons after carrying the other half of that ancient and twisted love story – but Grace isn't worried.
Everything is going to be FINE.
While she may be able to fool everyone else, Grace can't fool herself. There's a voice beneath the lulling sound of the tide and Grace's flat-mate, Laura, is acting weird. Much as Grace wants to avoid any further entanglements with the supernatural, she has a horrible suspicion that Laura needs help … and only Grace knows someone who can.
Just as Grace begins to feel that she may be on solid ground again, supernatural forces or not, she is pitched into a life and death struggle to save the one person she's come to care for more than anything or anyone else. Grace is about to find that the cost of hiding how you feel is a higher price than she is willing to pay…
Amy's Academicals (Unveiled Novella #1.9)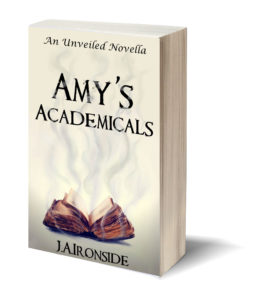 'Sometimes it sucks being the youngest sister. I mean your scope for originality is totally limited. And it doesn't matter what you do, you'll always be the baby of the family. Don't get me wrong, my sisters are awesome…but every sidekick eventually wants to be the super hero…'
Amy is thrilled when she wins a scholarship to a summer-camp for young scientists in Geneva. Between Emlynn acting distracted, and more than slightly obsessive over her new supernatural duties, and Grace avoiding the vicarage entirely in favour of spending all her holidays at her University in Cornwall, things have been kinda dull lately. Amy is ready for an adventure of her own.
On the shore of Lake Geneva, gathered together with other brilliant young minds, Amy is about to find out that she may have bitten off more than she can chew. Almost exactly two hundred years before, another group of young and brilliant people gathered here – in the 'Year without a Summer'…
As Amy is pushed and pulled between two new friends, she starts to wonder just how safe the camp really is. Strange things are happening. An inexplicable illness is striking down both teachers and students, and there are shapes in the night that stalk between the cabins and the lake shore.
Now that Amy is finally the heroine in her own mystery, is she strong enough to find the answers alone?
Ciarán's Chance (Unveiled Novella #2.1)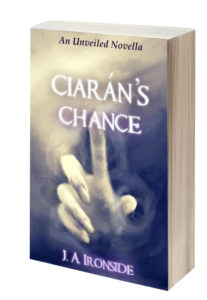 'There are things we do in life that we can't ever take back. Bad things that follow us, no matter how we wish we could change them. So I needed to find him. See the man. And the monster.'
A year after the events in Arncliffe and Ciarán is giving up hope of ever being able to return. Marked by what he did that night, he is no longer the person he thought he was. Surly, directionless and irritable, he reconnects with an old friend whilst staying with his sister. Somewhere between friendship and hatred, he starts to pick apart the strands of whatever darkness hides inside him.
A trip to find his father and confront his past turns into a nightmare that dates back centuries. Because something hunts the men of Ciarán's family. Something ancient that cannot be reasoned with or bribed. Amongst the O'Connors, the sins of the father really are visited on the sons. If Ciarán ever wants to be able to see Emlynn again, he must succeed where all his ancestors have failed and stop the creatures that have stalked his family for generations.
The Black Dog of Lyme (Unveiled Short Story #2.2)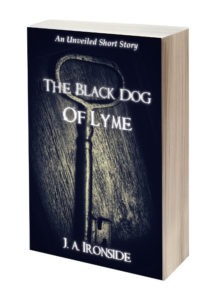 On her way to Cornwall with Grace and Amy, Emlynn can't resist making a slight detour. There's a very old ghost in Uplyme that just might need her help to move on. But first she has to deceive her sisters, summon the spirit and endure several centuries of wandering with a creature that is not human. No sweat, right?
This was born out of the research I did on mythical Black Dogs for 'I am the Silence' where I stumbled on this long standing and allegedly true story. Well there's just no way that Em would leave this uninvestigated so I give you Emlynn meeting the Black Dog of Lyme.
(Just a wee warning – since this is a ghost story, someone will have had to die. If you're very easily upset by stories about animals then I advise you to skip this – and maybe comfort yourself like I do that the Black Dog probably hounded the men involved for the rest of their natural lives… You won't miss anything major if you do skip it but if you want to give it a go there's some tantalising hints for book 3 in her. Enjoy and happy reading!)
Lucas Underground (Unveiled Novella #3.5)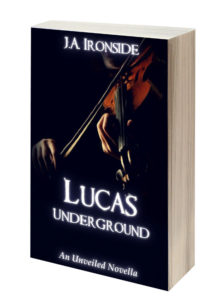 'I remembered tearing up the hill with a speed I rarely showed to anyone, because she was burning like a star and being consumed like oxygen. Fear like I had never know. Fear for myself because I was in danger and had no wish to die. Fear for her because she was disappearing in the heart of that crackling, electric inferno, leaving something dark and other in her place. Fear of her, of the terrible beauty of her power and the way I was drawn to it. And tangled beneath all of these things, fear of the girl herself, when all power was pushed aside. She was a different kind of danger for me. A new danger, unknown until I met her.'
Release date – February 2018
A Candle against the Dark (Unveiled Short Story #3.8)
Release date February 2018
Betwixt and Between (Unveiled Novella #5)
Release date TBC – 2018
Unveiled Companion Novels
Blood and Bone (Unveiled Companion Novel 4.5)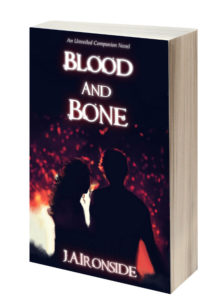 "I'm an O'Connor, son of the cursed male line of the Ua Conchubhair, and this is my story. It's a ghost story and a hero's tale, and it's a love story besides." 
After finding his father and confronting his past, Ciarán has laid the past to rest. He's more than ready to face the future and is looking forward to university with the girl of his choice by his side. Of course it won't be simple, he knows that. If your girlfriend is a powerful psychic and the Veil Walker besides, then you've got to expect a few road bumps.  What Ciarán has not prepared himself for is the interference of the Veil.
Caught up in the intrigue of a discovery made on a lonely hilltop, Ciarán finds himself inexplicably drawn to the ancient resting place of a man who lived thousands of years before. There is no fighting the special purpose that calls to his ancient blood line. With the dire warnings of the Crow Woman and the bean sídhe on one side, and his confusing relationship with Emlynn on the other, Ciarán faces the ultimate test of his fae-touched heart…