Fiction
I write in multiple genres, including fantasy, sci-fi, paranormal mystery and historical fiction. I also write across age groups, most commonly YA and Adult, but also some mid grade children's fiction too. It's an unusual story if there isn't at least something 'speculative' about it. My future projects and forthcoming releases are below. If you would like to know more about my currently available works, select the appropriate series title from the drop down menu (just hover the curser over 'Books')
As a founding member of 'The Random Writers', I have contributed to three of their short story anthologies. If you like short stories of a speculative bent with a sting in the tail,then check them out.(Under 'Random Anthologies')
There is also a list of other anthologies I have contributed too under 'Anthologies'.
I love hearing from readers – even when the question is 'can I be a character who gets killed in your next book?' (answer is usually 'yes', within reason) – so please drop me a line on my contact page if you would like to know more.
Coming Soon 
 The Unveiled Series
Untitled – Unveiled Short Story collection
This collection will include all the Unveiled short stories and novellas, including four previously unpublished works.  Release date TBC – provisionally February 2018
Lucas Underground (Unveiled Novella #3.5)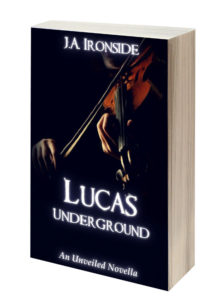 'I remembered tearing up the hill with a speed I rarely showed to anyone, because she was burning like a star and being consumed like oxygen. Fear like I had never know. Fear for myself because I was in danger and had no wish to die. Fear for her because she was disappearing in the heart of that crackling, electric inferno, leaving something dark and other in her place. Fear of her, of the terrible beauty of her power and the way I was drawn to it. And tangled beneath all of these things, fear of the girl herself, when all power was pushed aside. She was a different kind of danger for me. A new danger, unknown until I met her.'
Release date – February 2018
A Candle against the Dark (Unveiled Short Story #3.8)
Release date February 2018
Betwixt and Between (Unveiled Novella #5)
Release date TBC – 2018
Oath and Crown
A Black Matter for the King (Oath and Crown #2)
Stranded in Falaise, a political hostage as insurance of her father and brother's good behaviour to Edward the Confessor, Ælfgifa forms an unlikely friendship with William, Duke of Normandy. William has been quick to recognise her skills and swift to exploit them to his own advantage. However, unbeknownst to the duke, Gifa is her brother, Harold Godwinson's spy, sent in part to assess the power held by a potential rival for the English throne. Homesick and alienated by the women of the Norman court, Gifa watches the duke and gains his trust, torn between the loyalty and duty she owes her family and her own sense of moral obligation.
William, meanwhile, has largely subdued his dissenting nobles and might soon have a united Normandy in his grasp at last. But there are powerful forces further afield, growing jealous of the Duke's increasing might and wealth, won as much through diplomacy and subterfuge as in open conflict. There are bloody battles to be fought, legacies to be secured, and the tides of power and influence are rarely still – as William's stature grows, the circle of those he can trust, shrinks. While beyond the English Channel, William has received news of Edward's astonishing decree regarding the succession. Ælfgifa, receiving news of her father, Jarl Godwin's death, returns to an England where a steady undercurrent of discontent bubbles beneath the surface calm. An England that may soon erupt in conflict as one king dies and another is chosen.
The ambitions of two powerful men will decide the fates of rival cultures in a single battle that will change England, Europe and the world – Hastings.
The second book in the sweeping historical epic.
Coming 2018
Current Projects
The Devil in the Details (Melanie Beckett #1)
Charming, immoral con-artist, Mel, bites off more than she can chew when she gambles away her soul in a card game, only to discover that a) demons are real and b) that she now owes her soul to one. Still, you can't keep a good girl down for long and Melanie is a master grifter. All she has to do is offer said demon something he wants more – with an entire resumé of unusual and highly illegal skills, she's confident she'll be allowed to welch on this bet. Of course, it's the things you don't plan for that really ruin a good con…
Mary Reilly Mystery series
Unveiled fans get a fast paced and thrilling look at what 'Aunt Mary' did as a young woman. This is not your usual spy thriller, as young psychic, Mary Reilly, emerges from university to take a job with a shadow division of Military Intelligence. Agent Carter meets the X-Files with plenty of biting wit and moral dilemmas.