Fiction
Here are my books  and works I have contributed to. Enjoy!
Coming Soon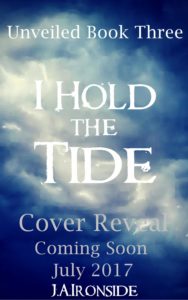 Unveiled Series
Reluctant, damaged heroine, Emlynn, pits herself against the supernatural and unknown in a fast-paced series of paranormal mysteries, which give new twists on old Gothic classics with just a hint of romance.
I Belong to the Earth (Unveiled #1)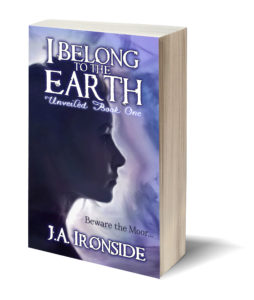 "There." Grace pointed towards the moor and I saw it: there was a shape in the dark. A tall, masculine shape. No, not a man; a piece of darker darkness in the shape of a man. We were being watched.
Seventeen-year-old Emlynn knows all about grief and guilt, not to mention secrets. Being able to sense the Dead wasn't so bad before the accident which killed her mother. Now it's taking over her life. Broken and shut off from the world, Emlynn is horrified when her father moves the family to a remote Yorkshire vicarage: a house that stands at the centre of a centuries-old curse born of betrayal, jealousy and poisoned love. A curse that feeds on the lives of young girls. A pattern about to repeat itself once more… When her older sister, Grace, gets involved with local bad boy, Haze, Emlynn knows she has to act fast. Somehow Haze is connected to the curse. Is Grace his next intended victim? Hurtling towards another family tragedy, Emlynn must find the strength to stop running from her gift, or risk losing the rest of her family for good. Only the dead have the answers she needs. If she can bring herself to speak to them…
I am the Silence (Unveiled #2)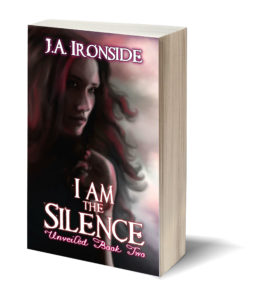 "Good…"Lucas breathed. "Have you found your inner darkness…and tamed it, Emily Lynette?"
Emlynn has become adept at sending the Dead on to rest. Perhaps a little too good…
Reeling from a crushing embarrassment, Emlynn visits her estranged best-friend, Beth, and attends the Milton Abbey Festival of music.
But in the year since she's been gone, Beth has changed. She's running with a new crowd now – a cooler, more dangerous group whose leader, Rhys, has an unhealthy interest in Emlynn. Torn between a world of dark powers and the terrifying black beast that stalks her dreams, Emlynn may have finally picked a fight she cannot win…
The Unveiled Novellas and Short Stories
Amazing Grace (Unveiled #1.5)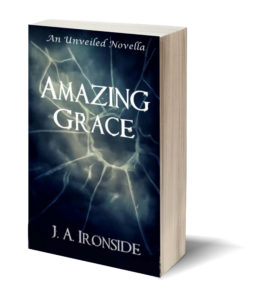 "You should always play to your strengths. If you've got it, then you use it, that's my motto."
Grace is faking it. Her sister may have broken the Pattern but Grace often doesn't feel like her body belongs to her – the memory of being possessed will do that to a girl. Not that Grace is admitting that to anyone because if there's one thing she hates, it's appearing weak. Besides, now that she's in her second semester at University, things are going to get better. Especially since the University is a long way from Yorkshire. Of course there's Nick – who is haunted by his own demons after carrying the other half of that ancient and twisted love story – but Grace isn't worried.
Everything is going to be FINE.
While she may be able to fool everyone else, Grace can't fool herself. There's a voice beneath the lulling sound of the tide and Grace's flat-mate, Laura, is acting weird. Much as Grace wants to avoid any further entanglements with the supernatural, she has a horrible suspicion that Laura needs help … and only Grace knows someone who can.
Just as Grace begins to feel that she may be on solid ground again, supernatural forces or not, she is pitched into a life and death struggle to save the one person she's come to care for more than anything or anyone else. Grace is about to find that the cost of hiding how you feel is a higher price than she is willing to pay…
Amy's Academicals (Unveiled #1.9)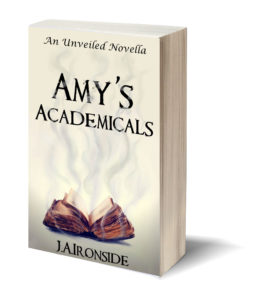 'Sometimes it sucks being the youngest sister. I mean your scope for originality is totally limited. And it doesn't matter what you do, you'll always be the baby of the family. Don't get me wrong, my sisters are awesome…but every sidekick eventually wants to be the super hero…'
Amy is thrilled when she wins a scholarship to a summer-camp for young scientists in Geneva. Between Emlynn acting distracted, and more than slightly obsessive over her new supernatural duties, and Grace avoiding the vicarage entirely in favour of spending all her holidays at her University in Cornwall, things have been kinda dull lately. Amy is ready for an adventure of her own.
On the shore of Lake Geneva, gathered together with other brilliant young minds, Amy is about to find out that she may have bitten off more than she can chew. Almost exactly two hundred years before, another group of young and brilliant people gathered here – in the 'Year without a Summer'…
As Amy is pushed and pulled between two new friends, she starts to wonder just how safe the camp really is. Strange things are happening. An inexplicable illness is striking down both teachers and students, and there are shapes in the night that stalk between the cabins and the lake shore.
Now that Amy is finally the heroine in her own mystery, is she strong enough to find the answers alone?
Ciaran's Chance (Unveiled #2.1)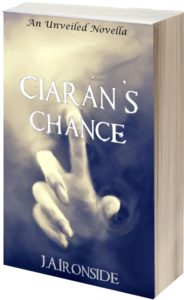 'There are things we do in life that we can't ever take back. Bad things that follow us, no matter how we wish we could change them. So I needed to find him. See the man. And the monster.'
A year after the events in Arncliffe and Ciarán is giving up hope of ever being able to return. Marked by what he did that night, he is no longer the person he thought he was. Surly, directionless and irritable, he reconnects with an old friend whilst staying with his sister. Somewhere between friendship and hatred, he starts to pick apart the strands of whatever darkness hides inside him.
A trip to find his father and confront his past turns into a nightmare that dates back centuries. Because something hunts the men of Ciarán's family. Something ancient that cannot be reasoned with or bribed. Amongst the O'Connors, the sins of the father really are visited on the sons. If Ciarán ever wants to be able to see Emlynn again, he must succeed where all his ancestors have failed and stop the creatures that have stalked his family for generations.
Girls' Night In (Unveiled #1.2)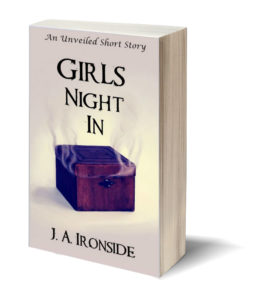 "I can't believe that I am trying to convince you two, that there's something wrong!"
After the events of the previous spring, things have been quiet for Emlynn and her sisters, Grace and Amy. Emlynn no longer fears her gift.Instead she is becoming skilled at using her affinity for the Dead as a force for good. When Grace lands a job house sitting for a neighbour and weird things start to happen, Emlynn agrees to a sleepover with her hostile older sister. Privately she believes that Grace, who has no psychic ability at all, is mistaken. But then Emlynn finds she's got more than she bargained for on a Hallowe'en night of true terror. It's not just the restless Dead who are drawn to he
Random Anthologies
As an editor contributor, I have had the pleasure of working with many unusual minds as they tackled a theme, each in their own unique and slightly avant garde fashion.
A Seeming Glass – A Collection of Reflected Tales
(Random Anthology #1)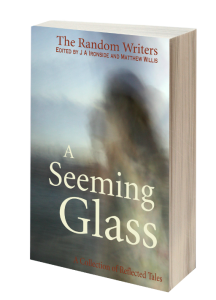 'How can I read the futures if I cannot see your skin?'
Six mysterious swans glide on a holographic pond in a totalitarian capital city. A terrified girl awaits her part in a ritual that could change the future… and the past. A dancer in ancient Jerusalem mourns her maimed sister and prepares for the performance of her life. A sword of legend sends its wielder back through the fiercest battles in history. A freshly qualified vampire hunter experiences the practical side of his vocation. Fourteen intriguing, dramatic, humorous and unsettling tales, inspired by existing stories and reflecting the breadth of storytelling from Greek myth to Hammer Horror, via fairy tales and Arthurian legend.
Something Rich and Strange: The Past is Prologue
(Random Anthology #2)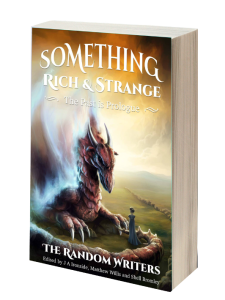 'It started with the Zhar-ptitsa, the Firebird, as these things must. No, let us say it started again with the Firebird.'
A group of researchers open a door in the present day that has been closed for centuries – and should have stayed that way. In 1840s Ireland, starving children face desperate measures to avoid the crisis consuming the land. A visitor to 19th Century Japan learns what it takes to fan love to life. A girl struggles to rise above the walls that surround her in Georgian England. In 7th Century Britain, a scribe translates the true value of a legend. Fourteen surprising, moving and compelling tales, weaving the next steps in the telling of famous events and stories from Greek myth to English folktale, via fairy tales and real historical events. The second anthology from The Random Writers
Stalking Leviathan: A Bestiary of Tales
(Random Anthology #3)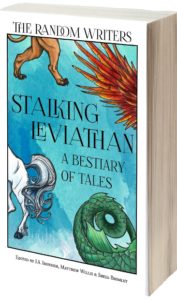 "It's out there. I can feel it in my water. I can hear it…"
Twelve tales that go in search of creatures of myth, legend, and the spaces between the real and the imagined. From the overwhelming confusion of the Irish Civil War to the eerie expanse of modern day Bodmin Moor; from Elizabethan England to the skies above Persia, the Random Writers quest for an answer to the question – What is the nature of the beast?