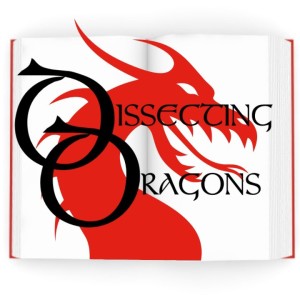 Episode 1 – Rags to Rebel leaders – the re-emergence of the Fairy Tale looks at the origin of speculative fiction in oral tales and how those tales are being adapted for new generations and genres. Books and films discussed include Angela Carter's The Bloody Chamber, A Court of Thorns and Roses by Sarah J. Maas and the new Disney Cinderella.
Download or listen online now: itunes Podbean  and Googleplay.
Episode 2 – Tainted Love – Of Triangles, Love Potions and the Happily Ever AfterThis week, fantasy authors M.E. Vaughan and J.A. Ironside tackle the subject of romance in speculative fiction, with a special look at the origins of Valentine's Day and the tropes of fantasy romance thoroughly examined. Wuthering Heights, Tamora Pierce's Beka Cooper series, The Hunger Games and Anne McCaffrey's Dragons of Pern are some of the books and films discussed.
Download or listen online now: Itunes,
Podbean
and Googleplay
Episode 3 – Deus Ex Machina – it was all a Dream: when Writers let you down.
This week Fantasy authors J.A.Ironside and M.E.Vaughan are looking at films and fiction where the ending just didn't deliver (in their opinion). Never mind not getting the ending you want, what about endings that are lazy, contrived or really just a slap in the face when you've been so invested in a writer's work? This week's 'dissection' focuses on the good and the bad endings of works such as The Divergent Trilogy, Jennifer Fallon's Tide Lord quartet, Harry Potter, Philip Pullman's His Dark Materials and certain seasons of the hit show, Supernatural.
Warning: This podcast is all about endings so there WILL BE SPOILERS! 
Dissecting Dragons: Episode 4 – Witches, Brooms and Spells: Enchanting and Entrapping Children in Fiction.
Witches have had a bit of a makeover in children's fiction – not least of whom are the Witches and Wizards of J.K.Rowling's creation – but just how did witches change from holding out poisoned apples and enticing unwary children into houses of gingerbread, to representing personal power, a sense of responsibility for others and, above all, being aspirational characters for children?  Fantasy authors M.E.Vaughan and J.A.Ironside will be discussing all this and more in this week's episode with their first ever guest star, 
James Nichol
. James is a children's author whose book 
The Apprentice Witch
 is due for release 7th July 2016. Together the three authors cover 
The Worst Witch
 by Jill Murphy, 
Chrestomanci series
 by Diana Wynne Jones, the 
Tiffany Aching
 books by Terry Pratchett and, of course,
 Harry Potter
.
Episode 5: Sci-Fi Westerns, Fantasy and Space Opera – Humankind's conquest of Space.
SFF and speculative fiction authors, J.A.Ironside and M.E.Vaughan, take on the tricky subject of exactly what classifies science fiction. From dystopian futures to space colonies to AI, sci-fi reflects the times in which it is born but everyone seems to have a different opinion on what constitutes sci-fi. Looking at Star Wars VII: The Force Awakens, the original Star Trek, Frank Herbert's Dune and the now ubiquitous superhero movie (thank you Marvel and DC!), our intrepid authors boldly go where many have gone before, but few have ever returned with satisfactory answers.
Episode 6: Merlin, Mordred and Morgana – Magic in Arthurian Legend
There have been countless re-tellings and re-imaginings of Arthurian myths and legends over the centuries – most recently a spate of films, plays, musicals and TV series have appeared. SFF authors 
J.A.Ironside
 and
 M.E.Vaughan 
delve into the history behind the myth, pulling out well known strands of the stories and looking at where and how these stories originated and were changed. With a particular look at 'magic' within the Arthurian legend, our intrepid authors discuss 
the Fenian Cycle
 and
 Fionn mac Cumhaill,
 from Irish myth, and
 the Briedei Cycle
 from pre-Celtic Scotland in comparison to Arthur and his court as it became known in the middle ages and renaissance. Also under the microscope this are BBC TV series 'Merlin', the 1981 film 'Excalibur', Mallory's 
Le Morte d'Artur
, Geoffrey of Monmouth's 
Historia Regum Britanniae 
and 
The Once and Future
 King by T.H.White.
Episode 7: Tatooine to Tudor England – The trappings of Historical and Speculative World Building
This week Dissecting Dragons is delighted to introduce its second guest author, historical fiction and non-fiction writer, 
Matthew Willis
. Matt is the author of the maritime historical-fantasy 'Daedalus and the Deep' and is in a great position to talk about both sides of this weeks topic – world building in historical fiction and SFF.
Together with their guest, fantasy authors M.E.Vaughan and J.A.Ironside throw both of these umbrella genres under the lens, looking at what makes world building work  (or not) and whether or not there is any difference between world building for Speculative fiction versus Historical fiction. Among the books and TV shows examined are George R.R.Martin's A Song of Ice and Fire series, Ken Follett's Pillars of the Earth, Pavane by Keith Roberts and Diana Gabaldon's Outlander series.
This week SFF authors
J.A.Ironside and M.E.Vaughan draw on their own considerable experience in martial arts in examining what makes a fight scene work and what some of the common error and traps writers fall into when writing violence are. On the slab for dissection are Netflix originals of the Marvel Universe 'Daredevil' and 'Jessica Jones', the cult favourite 'Buffy the Vampire Slayer' and 'The Lord of the Rings'. Meanwhile riffling through the pages of some of the best writers of fight scenes, we have Mark Lawrence's 'Broken Empire' trilogy, Tamora Pierce's 'Song of the Lioness Quartet' and Joe Abercrombie's 'The Blade Itself'.
Keep your guard up and get into your best fighting stance for an episode that pulls no punches.
Episode 9: From West to East – Translating Speculative Fiction into Anime and Manga
This week our intrepid fantasy authors, J.A.Ironside and M.E.Vaughan, invite you to join them in navigating the strange, hauntingly beautiful and occasionally murky and disturbing waters of Japanese Anime and Manga. The teaming petri dish includes  
Kazuya Minekura
's  
Saiyuki,
 Diana Wynne Jones' 
Howl's Moving Castle, Akira,
 Studio Ghibli and
 Full Metal Alchemist
 amongst many others. What makes Speculative Fiction and its myriad worlds as drawn by anime so bewitching? Tune in to find out.
Episode 10: Fight like a Girl – 'Strong' Female Characters in Speculative Fiction 
This week's episode focuses on the phenomena of the 'strong female character'. Just what does that mean? And what exactly is a 'Mary Sue'? SFF authors M.E.Vaughan and J.A.Ironside unpack what this concept really means with both its positive and negative connotations. On the slab for examination are Stephanie Meyer's Twilight, anime series Miraculous Ladybug, The Morganville Vampires by Rachel Caine and the hit TV series Teen Wolf, amongst others. (Someone also seems to have dragged Fifty Shades of Grey in like a cat with a dead bird so the Dragons might prod at that corpse a bit too…) Join for a long look at 'strong' female characters, Mary Sues, Sexy Lamps and Girls in Refrigerators.