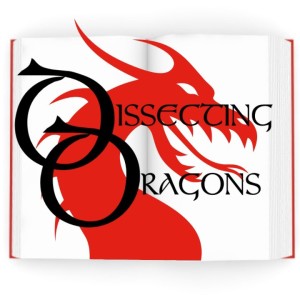 Dissecting Dragons is an exciting new podcast – produced by M. E. Vaughan and myself – which tackles all aspects of speculative fiction. From its somewhat obscure roots to the tropes and tricks of writing it to how spec fic is adapted for new generations. Through out the series we have a variety of guests on the show with us, adding other perspectives and talking about books, films, TV series and theatre in the Speculative genres.
Find us on itunes
Find us on Podbean (our home site)
Find us on GooglePlay (Coming soon to UK audience)
Find us on YouTube (Coming soon)
Follow our exploits on Facebook
Like what you hear? Why not subscribe to the Dissecting Dragons Podcast and get new episodes delivered to your chosen media player as soon as they become available?
Subscribe via itunes                               Subscibe via Podbean 
With thanks for our title music – 'Ecstasy' by Smiling Cynic