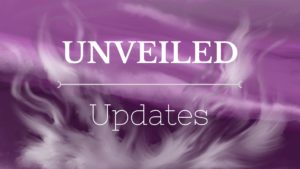 I am so excited about releasing the new cover for I Belong to the Earth, that I just had to write a sort post about it.
The new cover for Book one of the Unveiled series will be released tomorrow at 6.00pm GMT.
If you haven't read it yet, I Belong to the Earth is a YA paranormal fantasy about a young girl named Emlynn, who has an affinity with the Dead. After surviving a horrific car accident leaves her with brain-trauma and a strained relationship her family, Emlynn finds herself further adrift when her father moves the family to a lonely vicarage on the North Yorkshire Moors. Withdrawn and wary of trusting anyone, Emlynn wants nothing to do with her strange ability, let alone with a centuries old repeating Pattern of rage, jealousy and poisoned love. But when her hostile older sister gets involved with the local bad boy, Emlynn has to confront her power or lose the rest of her family for good. Only the Dead have the answers she needs. Rushing towards another tragedy, can she bring herself to ask them?
This  second edition of I Belong to the Earth will be available from Amazon on 25th September 2016. (Paperback to follow in October, release date TBC). If you happen to have read the first edition, the story has not materially changed. Instead, as a more experienced writer, I have tightened up the prose a bit and removed a few continuity errors (I'm actually surprised I didn't get called out on those!) So the second edition is not a new book but a cleaner, better, tidier version. I promise I have not gone George Lucas on it 😉 In addition there is also a brand new, never seen before Unveiled short story included because hey, if you're a fan, you've had to wait ages and that is no way to treat your readers. A gift to you from me.
A bit about writing the book; I Belong to the Earth is my debut novel. I've written more books since then but I can honestly say that I have yet to feel compelled to share a story in the same way.
I was strongly influenced by three things. Classic literature, folk lore and genuinely wondering what it must be like not to be able to read or articulate your thoughts? I mean, being able to read and to communicate is a real gift – one I had sort of been taking for granted. At this point in her half-timid, half-take-no-prisoners way, Emlynn charged in and demanded the story be told.
I also wanted to look at the relationships and power dynamics between sisters. It was something I felt I hadn't seen enough of in books and Emlynn, together with her older sister, Grace, and younger sister, Amy, were perfect for telling that side of the story too. Some people leave you better for having known them. I can now swear to the fact that some characters do the exact same thing – and Emlynn isn't done with me yet.
Goodies and extras; Whilst going through my files when I re-edited this book, I discovered all sorts of snippets, extras, sneaklets and short stories. The pick of the bunch will soon be available to read FREE here on my website. Look out for the 'extras' button on the main menu.
See the new cover tomorrow at 6.00pm  GMT on my tumblr, facebook, webpage and goodreads.