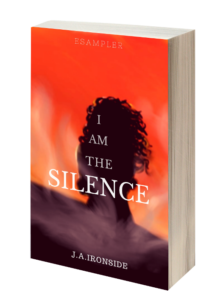 (please note – not final cover)
I am the Silence – Unveiled Book 2
My feet refused to move. I was going to die a horrible death right here, right now, because I could not run.
From the other side of the fire, a huge dark shape slunk forward. I gasped in smoke and hacked it out. The shape from my nightmares. I watched as its mouth opened, lips peeled back over teeth as long as my fingers. The beast snarled and sprang…
A year after breaking the Pattern, Emlynn no longer fights her gift. She's become quite good at sending the Dead on to rest. Perhaps too good – her overconfidence is about to lead to a fall…
Sent to investigate reports of a haunting, Emlynn finds herself facing a crushing embarrassment, and worse, a deep betrayal. It's time to leave the supernatural alone for a while. Get away from it all. Staying with her childhood best friend, Beth, for the Milton Abbey music festival should take her mind right off everything. Ghosts, betrayals and disappointments. Except Beth seems to have changed. She's definitely running with a new crowd, whose leader, Rhys, has an unhealthy interest in Emlynn.
As if that isn't enough, her violin tutor is a volatile, hostile and rude young man, whom Emlynn knew a long time ago. Lucas has definitely changed and that's one mystery Emlynn can't leave alone. Caught between her connection with Beth's troubled younger sister and the terrifying black beast that stalks her in her dreams, there's no rest for the weary psychic. Facing the reality of what Beth has got mixed up in, Emlynn may have finally picked a fight she cannot win…
I am the Silence is book 2 in the Unveiled series. You can get a free downloadable esampler of the book by clicking on either of the links to join my Readers' Group. This will also give you access to other freebies, competitions and release dates.
This book is available for limited time only.
Happy reading 🙂
(Since I am trying not to irritate my subscribers with needless mail, if you are already a member of my Readers' Group and would like this free esampler, please get in touch via the 'contact me' page and type 'Silence', your name and your preferred email address and format – mobi or epub – into the message field. I will be happy to send it out to you.)