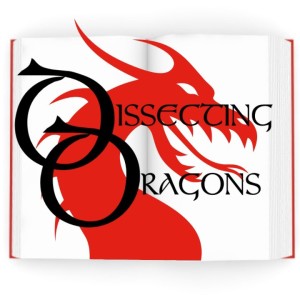 Today was an exciting new first as my fellow fantasy author, M. E. Vaughan, and I prepared for the launch of our new podcast. 'Dissecting Dragons' is aimed at fans of all forms of speculative fiction – fantasy, sci-fi, horror, dystopian, steam-punk – you name it and we'll be discussing it. As we are both driven writers and avid readers, we wanted to produce the kind of show that we would like for ourselves. So we will be looking at books, films and T.V. series as well as discussing the nuts and bolts of writing speculative fiction.
We recorded our first podcast today and will be launching it early in February. (Check out our Facebook page for more information. You can also contact us there.)
While Madeleine and I had both had a little podcasting experience before, it was the first time we had ever tried to direct our own show with our own original content. After some natural nerves and more than a few giggles it went really well. It's amazing how easy it is to forget there's a microphone on when you are in the middle of a really interesting discussion about books and writing!
Anyway, this is just the beginning of our adventures. We already have some fellow writers who will be making guest appearances on the show, as well as a very long list of interesting speculative fiction topics to tackle. (Not that we're not open to suggestions on that score.) Look out for our first episode – we hope you enjoy listening as much as we enjoyed making it 🙂