Book Three of the Unveiled series – I Hold the Tide – is available for purchase now
In paperback
And epub for other ereaders via Smashwords, ibooks, Barnes and Noble etc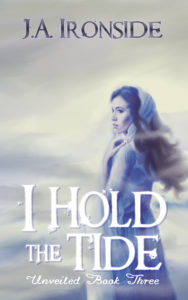 'Do you like ghost stories, Emily? Mine doesn't have a happy ending…'
Emlynn's power is spiralling out of control. Still reeling from the dark rite that almost killed her, Emlynn's life is thrown back into turmoil when Grace requests her help in Cornwall. Caught between the seductive pull of the Veil, and haunted by the memories of a long-dead smuggler, and the apparition of a mysterious woman who is singing men to their deaths, Emlynn needs to get her powers back under control and unravel the mystery before the storm breaks…
First of all, I know that I'm about three months behind my projected release date. I'm super very sorry, I really thought I was going to have to pry it out of the cold dead hands of my inner perfectionist. But hey, it's available now and I'm pretty pleased with this one. I hope you guys enjoy it too.
I do have ARC copies available in exchange for honest reviews btw, just ping me a message via the contact form.
Other news;
Despite messing up the release date for book three, book four – I Rule the Night – is all set to publish on schedule 18th December 2017. So there won't be a long wait to find oug whar happens 🙂
You can pre-order it from Amazon now (UK) (USA) and it will be available in ebook from all other distributors for pre-order soon. Paperbacks will be out on 18th December.
All my back catalogue (except Amy's Academicals – which will be up on Smashwords etc from mid November) are now vailable through all distribution channels. So if you prefer not to use Amazon you can purchase my books from Barnes and Noble, ibooks etc instead.
I also have a few more freebies coming up so watch this space…
Here's the part where I say please and thank you. First of all thank you to e eryone who buys my books. Judging from the sales figures there actually quite a lot of you. You all rock  – especially those of you who get in touch to tell mr you enjoyed my books. (I love hearing from readers so don't ever be shy.)
The please side of that is, if you enjoy my books or hell even if you didn't and think I need to get my act together, please could you leave me a review where you bought the book? Or on sites like GoodReads or Litsy if you hang out there? One line saying you liked it is fine although please do write more if you wish. Your opinions matter – not just to me although as I'm writing for you guys I definitely like to know what you think – bt to other potential readers. Reviews make a huge difference to authors – we live on word of mouth. So if you could find the time to leave me a review, I'd be really grateful. No review is extraneous – no book can have too many reviews!
That's all for now folks but I'll be back soon to talk about accidentally writing a book (which I'm probably going to put up for free) and a chat about my new projects as well as Unveiled audio books.
Happy reading 😉